Letztes Wochenende öffnete sich wieder eine Gesellschaftlich Kluft beim spielen von Tabu XXL. Kurz zur Erklärung Tabu XXL ist kein "normales" Tabu, sondern eine Art Extended Version. Man muss neben dem begriffe raten auch mit Hilfe von Papier und Bleistift versuchen einem einen Begriff zu erklären. Und nun die Preisfrage was ist das??
Last weekend we play "The big taboo". The big Taboo is no normal taboo it´s like an extended Version of taboo. You must not only explain words, you must also try to paint the word. So my girlfriend and I was in a team and she painted this picture. Do you know what this is??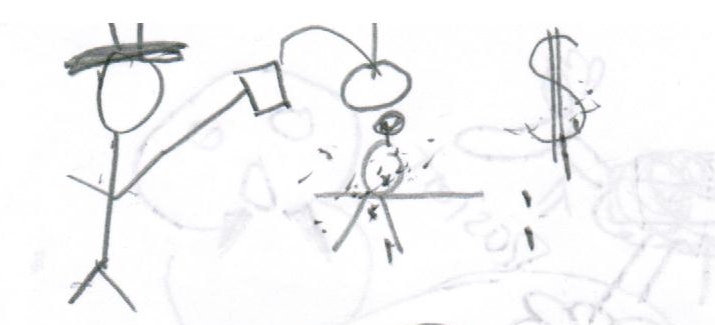 Das soll der Begriff "Richter" sein?!
Ok meine Freundin ist Erzieherin und somit etwas künstlerisch angehaucht, aber das war nicht zuerkennen, wenigstens nicht von mir und in der Zeitvorgabe =)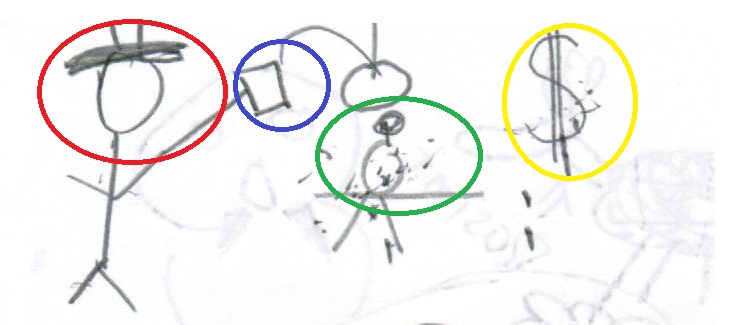 Hier ihre Erklärung: Rot ist der Richter, Blau der Hammer, Grün der Angeklagte, und Gelb sollte eigentlich das Paragraphen Zeichen § sein =)
The word which is searched is, JUDGE. Red is the judge, blue the hammer, green is the accused and yellow well this should be this sign: §
And no I didn´t solve