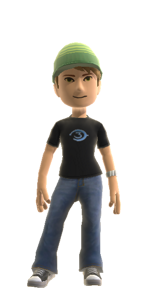 Florian Marquardt ist der Mann hinter dem Pseudonym Deficiency. (Bei XBL: Deficiency1984).
Am 29.05.1984 erblickte er das Licht der Welt. Nach seinem Informatik studium arbeitet er jetzt bei einer großen Spedition als Softwareentwickler.
Besonders reizen kann ihn die ganze Konsolenecke, wobei der Fokus auf die Xbox liegt. In XNA versucht er sich was aber meisten an den grafischen Fähigkeiten scheitert (Zeichnen war noch nie meine Stärke).
Kontaktdaten:
EMail: defi at defis-random-noise.de
Xbox LIVE Gamertag: Deficiency1984
Florian Marquardt is the man behind the pseudonym Deficiency. (On XBL: Deficiency1984).
On the 29. May 1984 he was born. After his post-graduate computer science, he now works for a truckage company as a software engineer.
In his freetime he plays console games, especailly the xbox. He also loves to program with XNA but his graphic skills are not the best =).
Contact:
EMail: defi at defis-random-noise.de
Xbox LIVE Gamertag: Deficiency1984